Welcome to Teaching Matters @ SU 5(2)
This issue of Teaching Matters celebrates the 4th annual Scholarship of Teaching and Learning (SoTL) conference that took place in May 2010. It includes, amongst others, submissions by the keynote speakers, summaries of the plenary discussions held after each keynote address, the prize-winner's reflection on winning the award, as well as three extended abstracts that were submitted for publication in this journal.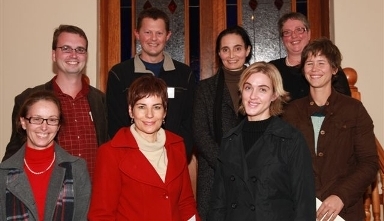 Smiles from some of the winning presenters at the 2010 SoTL conference:
Back: Mr Len Steenkamp; Prof David Holgate; Dr Elmarie Costandius; Prof Juanita Bezuidenhout. Front: Dr Susan van Schalkwyk (Centre for Teaching & Learning);
Ms Liezel Nieuwoudt; Ms Zaan Bester and Ms Ingrid Mostert
Teaching Inspiration at the Spring Teaching Academy
The Centre for Teaching and Learning is presenting the annual Spring Teaching Academy on 26 and 27 October 2010. This series of workshops on professional teaching will be offered to further inspire teaching and learning at SU. More information is available here.
What is Teaching Matters @ SU?
Teaching Matters @ SU is an online journal that is published by the Centre for Teaching and Learning at Stellenbosch University. It is published bi-annually and offers an opportunity for discussion regarding current teaching and learning issues and debates on campus. Lecturers, tutors and other teaching and learning role-players are encouraged to participate by writing short feature and "snapshot" articles on their teaching experience and research initiatives.

All articles will be published in the language in which they are received, with the exception of the feature articles and interviews, which will be available in both Afrikaans and English.

For further information or queries, please contact Mégan Burgoyne (meganb@sun.ac.za).
*** With special thanks to Lucille Muller and Francois Tredoux (HUMARGA)
for their input and assistance with the images and layout for this website ***