Welcome to the Barbour Group home page. We mainly focus on the discovery, design, assembly and characterisation of new functional materials with interesting properties. In particular, we are interested in exploring and understanding structure-property relationships relating to (i) porous materials and (ii) materials that undergo unusual thermal behaviour (e.g. anomalous thermal expansion, thermosalience, phase transitions, etc.). Please visit the Research Page of this web site for more information on what we do.


2021

02 May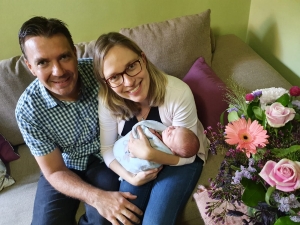 (click here for larger image)
Today Marike and Carl welcomed a new member to their family. Reynard Carl was born at 16:20. Congratulations to the Wehlitz family!


30 April
Our paper "High Pressure In Situ Single-Crystal X-Ray Diffraction Reveals Turnstile Linker Rotation Upon Room-Temperature Stepped Uptake of Alkanes" has just been published online. Congratulations to Dewald, Vincent and Himanshu!. See Angewandte. Chemie. Int. Ed. DOI: 10.1002/anie.202102327, (link)


---
2020

16 December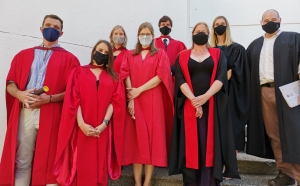 Wesley, Bella, Marike, Jeanie and Dewald graduated today. Congratulations Drs Feldmann, Claassens, du Plessis, Lombard and van Heerden!


9 December
Dewald's tutorial review "Guest-occupiable space in the crystalline solid state: a simple rule-of-thumb for predicting occupancy" has just been published online.
Chem. Soc. Rev., 2021, 50, 735-749 (link).


August
A description of X-Seed Version 4 has finally been published. Please see the Software page of this web site, or follow this link.


March
Ashleigh Ye, Sam Shabangu and Balene Motloung have joined our group. Welcome to all of you!


25 February
Marike's paper "Record-setting selectivity for p-xylene by an intrinsically porous 0D metallocycle" is accepted as a communication by JACS


24 February



Len, Leigh and Travis Holman speak at "The Symposium of Opportunity", McGill University


22 February
Len, Leigh and Travis Holman speak at the 2020 Bruker/MIT Symposium


21 February



Len and Leigh present an X-Seed workshop at MIT


01 January
Len assumes his new role as Associate Editor, Crystal Growth and Design


---
2019

December 11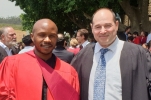 Phumile graduated today. Congratulations Dr Sikiti!


November 08
Wesley's paper "Direct Determination of Enthalpies of Sorption Using Pressure-Gradient Differential Scanning Calorimetry: CO2 Sorption by CuHKUST." has been accepted by ChemSusChem.


September 07
Prem's paper "Accordion and layer-sliding motion to produce anomalous thermal expansion behaviour in 2D-coordination polymers." has been accepted by Chemical Communications.


September 06
Arpan's paper "CO2-induced single-crystal to single-crystal transformations of an interpenetrated flexible MOF explained by in situ crystallographic analysis and molecular modeling." has been accepted by Chemical Science.


September
We welcome Steffen Deutsch from the Hochschule Bremen, City University of Applied Science. He will be spending several months with us.


July
Bella's paper "A Multi-Stimulus Responsive Porous Coordination Polymer: Temperature-Mediated Control of Solid-state [2+2] Cycloaddition" has been published by JACS.
(link)


June 21
Bella's poster wins another prize: her poster titled "A multi-stimulus responsive porous coordination polymer: temperature and solvent-mediated control of solid-state [2+2] cycloaddition" wins the International Union of Crystallography (IUCr) Journals Poster Prize at the First International School on Advanced Porous Materials (MOF School) in Como, Italy.


June 16-21
Len attends the 24th ICCOSS meeting in New York City.


June 17-21
Bella continues her Grand Tour of Italy to attend the MOF School in Como.



Bella wins first prize for her poster at the 10th Crystal Forms meeting in Bologna.


June 9-11
Bella and Thalia attend the Crystal Forms meeting in Bologna, Italy.


June 1-6
Bella, Thalia and Len attend the ISMSC Conference in Lecce, Italy.


June
Phumile's paper "Direct in situ Crystallographic Visualization of a Dual Mechanism for Uptake of CO2 Gas by a Flexible MOF." has been accepted by Inorganic Chemistry. (link)


24 May
Congratulations to Phumile for successfully defending his PhD!


May
Phumile's paper "A new dynamic framework with direct in situ visualisation of breathing under CO2 gas pressure." has been accepted by CrystEngComm. (link)


January 21-25
This week we welcome Dr Peter Müller, who is running a workshop at Stellenbosch University: "Getting the best structure from your crystal data"


Our Mailing address is:
Department of Chemistry and Polymer Science
Room 1009, de Beers Building
Stellenbosch University
Private Bag X1
Matieland, 7602
South Africa
(If you are mailing samples to us, please ensure that you indicate very clearly on the package that the contents have no commercial value.
Otherwise the samples may be detained by customs officials while their value is assessed)

Len Barbour
Room 1009C
Tel: +27-21-808-3335
Email: ljb[at]sun.ac.za

Marike du Plessis, General Laboratory Manager
Room 1010
Tel: +27-21-808-3347
Email: mdp[at]sun.ac.za

Leigh Loots, Diffraction Laboratory Manager
Room 1009F
Tel: +27-21-808-3350
Email: leighl[at]sun.ac.za

Student Office, Room 1009A, Tel: +27-21-808-3302
Postdoc Office, Room 1011, Tel: +27-21-808-3348
Reading Room, Room 1009G, Tel: +27-21-808-9116

Fax: +27-21-808-3360
---
© 2015 Department of Chemistry and Polymer Science, University of Stellenbosch, Stellenbosch, 7600, South Africa, Tel. +27 (0)21 808 3335, Email: ljb@sun.ac.za