BTK2000: Animating the Cellular Map
9th International BioThermoKinetics Meeting
Stellenbosch, 3-8 April 2000
Important!
The 9th BTK Meeting has passed, and these pages are therefore out of date. They are only kept here for back-reference.
There are still proceedings books available. If you would like to purchase a copy, contact the organisers.
---
Think of the living cell as a city. BioThermoKinetics is not so much about the static map of this city, but rather about the traffic on the map that gives it life, and about how the map is adapted dynamically in response to change.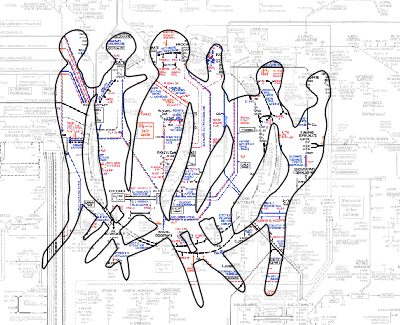 ---
Index to this page
---
Update information
The 9th Meeting of the International Study Group of BioThermoKinetics (BTK) will take place from 3-8 April 2000 in Stellenbosch, South Africa. This page contains important update information for participants. The original Second Announcement is still available for reference.
The image at the top of this page previews the cover of the conference book Animating the Cellular Map. Its origin and symbolism will be described in the book.
The room allocations in the conference hotel have been finalised. Click here.
Full programme details are available. Click here.
[To Index]
---
Organising committee
[To Index]
---
Contact details of organisers
Prof Jannie Hofmeyr
Department of Biochemistry
University of Stellenbosch
Private Bag X1
7602 Matieland
South Africa

Tel: +27-21-8085842

Fax: +27-21-8085863
Email: jhsh@maties.sun.ac.za
[To Index]
---
Programme
Full programme details are now available on a separate page.
[To Index]
---
The conference book
We have received 44 contributions for publication in the conference book BTK2000: Animating the Cellular Map. These mini-papers have all been peer-reviewed and revised, and we are happy to report that after revision they have all been accepted!
Read the mini-papers
The contributions can be viewed on the Programme page - glance through them to see what you can expect at the meeting. Each contribution is linked to a PDF file which you can view directly in your browser (this requires Adobe Acrobat Reader, which can be downloaded for free from ftp.adobe.com).
[To Index]
---
Workshop on Modelling of Cellular Processes
In conjunction with the 9th BTK meeting we are organising a workshop on the Modelling of Cellular Processes. Click here for updated information.
[To Index]
---
Travel arrangements
Shuttle buses will pick up participants from Cape Town International Airport on Monday 3 April and transfer them to the conference venue; a similar shuttle service will take participants from the conference hotel to the airport on Saturday 8 April. If a significant number of participants arrive on Sunday 2 April, a shuttle service to Stellenbosch may be arranged as well.
Important: Please send us your flight details (dates and times of arrival and departure) by email as soon as these are available.
Also note: Participants are responsible for organising their own accommodation if they want to arrive before Monday 3 April and/or depart later than Saturday 8 April. You may want to stay at the conference venue (Protea Hotel Devon Valley; information here) or look for alternate accommodation (more information in the Tourist Information section of this page).
Cape Town International Airport has daily connections to other South African centres and many European destinations. If the airline of your choice does not service Cape Town, you may have to fly to Johannesburg and change to an inland flight from Johannesburg to Cape Town. Detailed information on South Africa's airports, including flight schedules, may be obtained from the Airports Company South Africa website.
[To Index]
---
Deadlines
| | |
| --- | --- |
| Change room allocations | 24 March 2000 |
| Start of BTK2000 | 3 April 2000 |
[To Index]
---
Registered participants
The following participants have registered for BTK2000 (list in alphabetical order). Email links are provided should you want to contact someone in advance (e.g. to organise sharing a hotel room).
[To Index]
---
International advisory committee
Luis Acerenza (Montevideo)
Marta Cascante (Barcelona)
Athel Cornish-Bowden (Marseille)
David Fell (Oxford)
Lena Gustafsson (Göteborg)
Reinhart Heinrich (Berlin)
Jacqueline Hoerter (Châtenay Malabry)
Peter Ruhdal Jensen (Lyngby)
Martin Kushmerick (Seattle)
Vida Mildaziene (Kaunas)
Stefan Schuster (Berlin)
Hans Westerhoff (Amsterdam)
[To Index]
---
Venue
The 9th BTK meeting will be held at the Protea Hotel Devon Valley, situated in the Western Cape winelands just 8 km outside the town of Stellenbosch. The hotel offers full conference as well as recreational facilities, including two swimming pools, "boules", hiking, bird-watching and more. General information on Protea Hotels can be found here.
The Devon Valley Hotel is the ideal BTK venue, providing an "island situation" in beautiful surroundings, yet being close to the town of Stellenbosch.
Room allocations
Below is the rooming list for accommodation in the Protea Hotel Devon Valley during BTK2000. In drawing up the list, we have taken the following into consideration:
Single rooms were allocated according to availability on a first-come-first-serve basis.
Participants who indicated on their final registration forms with whom they would like to share a room, have been grouped thus.
The remaining participants were allocated two-bed rooms at our discretion.
Please note: If you would like to change your room allocation, this can be done. However, you will have to organise it yourself by contacting the participants concerned (full email contact details here), and then forward the changes to us. This means that we will only consider requests like: "Please change room allocation A/B and C/D to A/C and B/D". We will need to receive these changes before 24 March 2000.
Single rooms

Cornish-Bowden
Diderich
Gustafsson
Hoefnagel
Hoerter
Klipp
Kummer
Larsson
Poolman
Quant
Rohwer
Sluse
Soboll
Westerhoff

Two-bed rooms

Aguilaniu & Ebenhöh
Albers & Von Knorring
Allen & Stovell
Andersen & Malgat
Ataullakhanov & Vitvitsky
Boogerd & Bruggeman
Brand & Heinrich
Diolez & Eaton
Fell & Schuster
Groeneveld & Somsen
Hugenholtz & de la Fuente
Jarmuszkiewicz & Ovádi
Jensen & Koebmann
Kell & Mendes
Keyhani & Plotnikov
Kleppe & Melchiorsen
Koefoed & Reijenga
Mazat & wife
Sauro & Pritchard
Some photographs of the hotel and surroundings:
| | |
| --- | --- |
| The hotel terrace | |
| | View from the hotel overlooking vineyards with the Stellenbosch mountains in the background |
More photographs of the hotel here.
[To Index]
Tourist information
Tourist information on Stellenbosch can be found here. You can also visit the SATOUR (South African Tourism) website, or their link specifically for the Western Cape.
Currency and banking information
On 9 February 2000 exchange rates for the South African Rand were:
USD 1.00 = ZAR 6.27 / GBP 1.00 = ZAR 10.11 / EUR 1.00 = ZAR 6.19
For updated exchange rate information or for exchange rates of currencies not listed here, you may want to visit The Universal Currency Converter.
South African banking hours are Mondays to Fridays 08h30 to 15h30 and Saturdays 08h30 to 11h00. A nation-wide network of automatic teller machines (ATMs) provides instant 24-hour access to cash; all major cards (VISA, MasterCard, Cirrus, Plus) are accepted. The major credit cards are generally accepted for payment in shops, restaurants and hotels.
[To Index]
---
Links
This page has been visited
times
since 7 June 1999.


These pages are being compiled by Johann Rohwer.
Last update 10 March 2000.
---